Here are just some of our 5 Star Reviews, testimonials and customer endorsements that EMERG+NC Property Rescuers has received recently. While no one wants to be the victim of a disaster or incident with property damage, we can and will help you pick restore your property back to normal and help you navigate to complicated insurance claim process.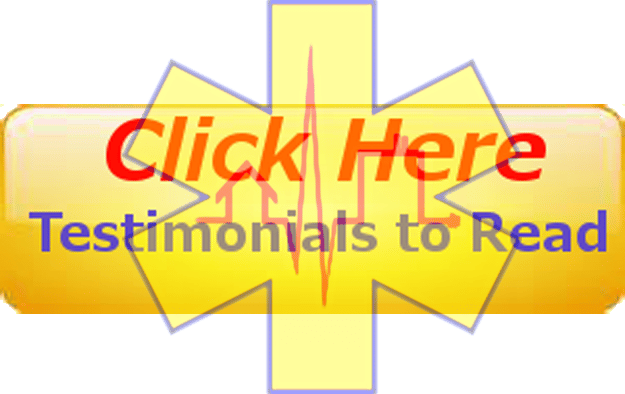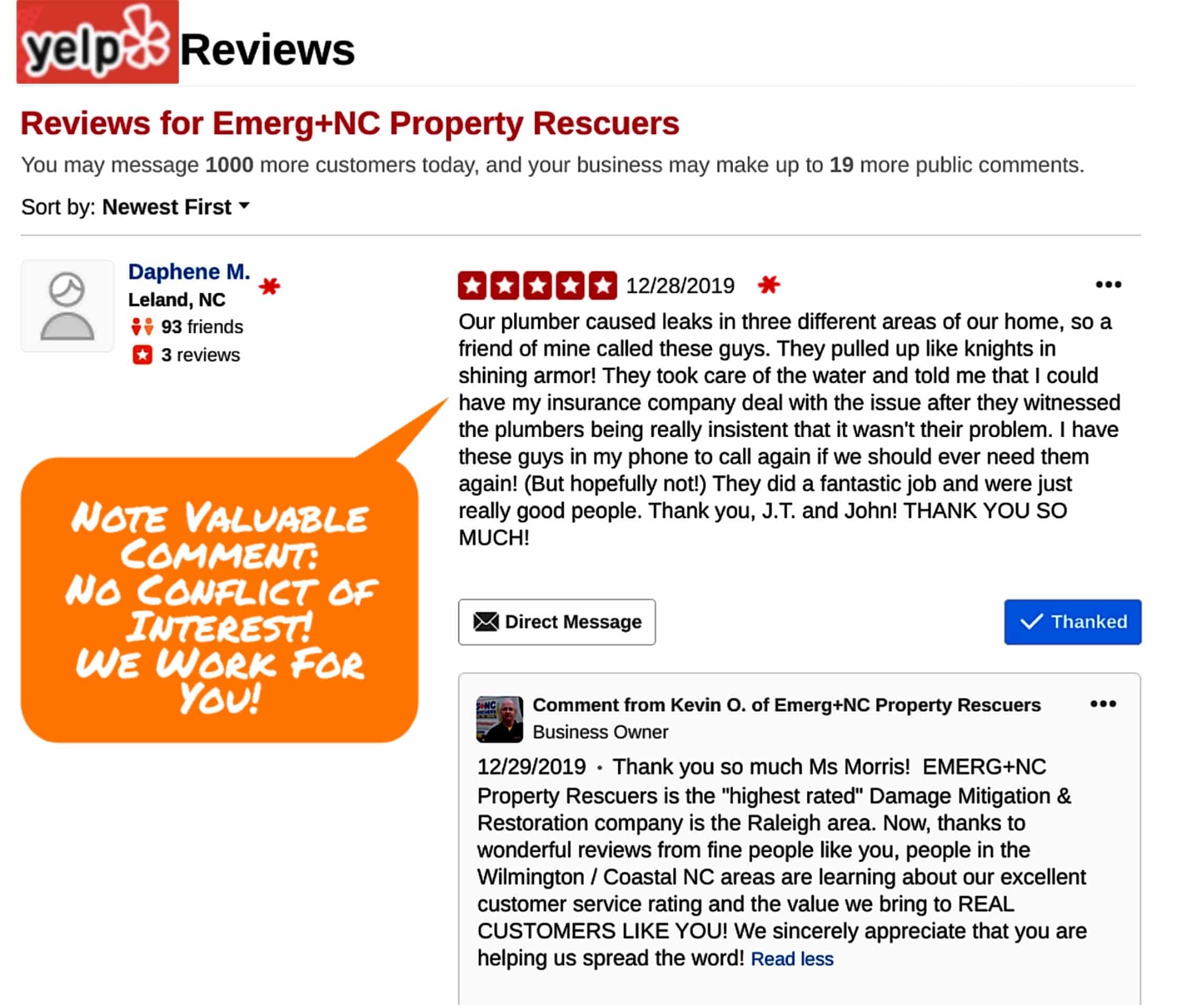 Thank you so much Ms Morris! EMERG+NC Property Rescuers is the "highest rated" Damage Mitigation & Restoration company is the Raleigh area. Now, thanks to wonderful reviews from fine people like you, people in the Wilmington / Coastal NC areas are learning about our excellent customer service rating and the value we bring to REAL CUSTOMERS LIKE YOU! We sincerely appreciate that you are helping us spread the word!

The support and responsiveness of Emerg+NC far exceeded my expectations. From the moment the project manager Josh entered my home, he and$his team took the stress out of my life. They were very professional and compassionate. And I especially appreciated not having to be my own advocate with the insurance company. If I ever have an emergency in the future, I will only call Emerg+NC. Barbara Butler, Morrisville, NC

These guys have been fabulous! They helped us when our water heater which is located in our attic popped, casing a flood throughout our first and second floors. They came out, cleaned up the mess, and installed drying machines throughout (all after 7pm!) As soon as the insurance claims were accepted, they were very quick to arrange all of the repairs. Their team does fabulous work! Charles and Josh have especially be exceptional! Highly recommended!! Matthew Slazer, Fuquay Varina, NC

This company is fantastic. They provided exceptional service throughout the mitigation and repair process at my home. They are definitely experts in what they do and the end result far exceeded my expectations. Josh Hooks was wonderful to work with and ensured that the entire process ran smoothly from evaluating the damage upon arriving at my house to initiating the mitigation work and supporting me through the assessment and negotiations with my homeowners insurance adjuster and coordinating the many aspects of the repairs. They turned an extremely stressful home disaster into a solution. I would use them again and will refer them to whomever I can. Dianne Shakinovsky, Apex NC

So I made the mistake and called another company first for a water spot on my ceiling. I was simply looking for a plumber – and 15 minutes after my call to this very large, well known company, a "restoration" specialist is at my door. I assumed he was the plumber, as he said he works hand in hand with the plumber, but within 5 minutes of speaking with him – it was clearly the ambulance chaser. Without even knowing what was leaking, he had pretty much told me my entire ceiling was going to have to come off, fans run for a week, subflooring removed and new tile. AKA – the house would fall apart without his help. He got pushy and insisted we call their insurance adjuster immediately, to which I finally thanked him and said I'd wait for the plumber. Needless to say – their plumber never showed up. The next morning, I called Emerg NC, who sent me their plumber in a just a couple hours time, and had the leak fixed immediately. They walked me through where the damage was, why it was there and how they'd recommend we approach it. Told me they could help with insurance if we needed the process documented and claimed, but they put me on a schedule that worked for me – and they never gave a sales pitch – only offered solutions and fast response. I had no idea there was such a difference in service, and I know moving forward, my first call will be to Emerg NC to get it done right the first time. Thank you to your professional team, your fast response, and your non-sales pitch way of working. Very much appreciated! Michael Hubbard, Raleigh NC
Best folks out there.  Professional, and available when you need them.  Cost are what they are, no surprises and the only people I will ever call and I live in a flood plain, so I know I will be calling them again.  Years ago I used to clean up the mess myself.  At this stage, I can not longer do it, it overwhelms you.  They came in, I left, when I came back I had help, real help.  I have folks that listened to what I wanted and did what I asked and did not charge me more.  I had a family that when it rains I can call and will call me back to see if I need help. Why go anywhere else. Robert Brown, Durham NC

I have nothing but praise for everyone at Emerg+NC! Josh, Kevin and Kyle and all of the other staff that I dealt with were amazing from my first frantic call to the very end. I had never experienced a home flood emergency before and really did not know what to do or where to turn. So very glad that I turned to Emerg+NC. They were so patient with me and all of my million questions and helped me to navigate the insurance claim process. Our home now looks as good and maybe even better than the day we moved in;) We can not thank them enough for everything!!!!
I give Emerg+NC 5 Stars – Here's why. First of all, I teach service Internationally, and if you think I'm tough to please, you haven't met my wife. She's an absolute neat-nick. Plus, we are both anal-retentive.
So when we came home to 3 hours of continuous hot water flowing from our master bath into bedrooms, baths, hall, and living room resulting in 60% of our hardwood, tile, and carpeted floors ruined, we were in a panic, shocked, and totally horrified. It was 6:00 on a Saturday evening when I called Emerg+NC based on their online recommendations. I was told they would be here in 2 hours to start mitigation.
As promised, they showed up at 8:00 totally taking over and telling us it would all be okay. I asked Charles Walker, mitigation superintendent for Emerg+NC, how long it would take to finish the job. He said, "Two to three months depending on everything going as scheduled." Wow, harsh reality, but true. I totally believe in under promise over deliver.
Everything that could 'go wrong' during this stage did. But, Charles was there to listen to our frustration at any time day or night. Never once did Emerg+NC, or its employees, placate us. And if they said they would be here at 8:00, they were here, or call with plenty of time to schedule our day.
After mitigation came reconstruction and a new supervisor, Josh Hooks. Again, like Charles, a real upfront, no bull guy with an infectious smile and a great work ethic!
I teach that there is no such thing as perfection, and it proved itself in the reconstruction stage. Water supply lines burst while reinstalling sinks, carpet delivered in the wrong size, cleaning crew accidently spilled bleach on newly installed carpet, and a myriad of little things that drive a homeowner nuts. Such is life.
Emerg+NC was there. They told the truth, on time, masterful work, excellent pricing, and worked extremely well with our insurance company, ERIE.
I highly recommend Emerg+NC and easily give them 5 Stars! 1/17 Jerry Rossi, Raleigh, NC https://www.facebook.com/pg/EmergNC-Property-Rescuers-Durham-NC-Water-Fire-Damage-Restoration-269509346742959/reviews

"EMERG+NC PROPERTY RESCUERS deserve their name! My husband and I give them a five (5) star rating for professional, immediate service. We had a flood in our crawlspace and Tim Buchanan & crew were "at the ready" to clean-up the mess in the most efficient means possible when I SOS'd him after 8:00 PM! Throughout the entire process, Tim and Josh Hooks worked diligently, keeping us informed every step of the way, always showing up on schedule and bringing a staff of friendly, knowledgeable helpers. Tim even took time from his busy schedule to intercede with our insurance adjuster, in order to keep him apprised of the progress as well. I highly recommend EMERG+NC, even the office staff (Susan) and would definitely call on them again, although I hope that the need never arises. THANKS SO MUCH – we couldn't have done it without you, all of you, even those I don't know by name!" 11/16 Catherine & Frank, Cary, NC

Kevin was outstanding. As a single mother with a special needs teenager, disruption to routine can be a huge deal. When a broken water pipe in my bathroom shot hundreds of gallons of waters through my house in a matter of minutes, he and his team were there to set things back in order. He also helped me navigate a difficult insurance claim with kindness and professionalism. If you are EVER in need, this is the team to contact. Professional, kind, prompt. Couldn't ask for a better experience! – 7/17 Kate Kennedy, Chapel Hill, NC

I found my experience with The Emerg+NC Team to be absolutely phenomenal.  Their attention to detail, courteous manner and expertise made my entire experience much more manageable.  They went above and beyond during every facet of the job.  My main point of contact, Steve, made himself available at all times and took the time necessary to listen to our concerns so that he could provide a few different options that were most suitable for my situation.  Many of these consultation times were after hours due to my challenging work schedule.  His guidance/advice was a difference maker when it came to decision making time for me and my family.  The owner,  Mr. Kevin Oakley is one of the most customer centric business men I have met.  His entire approach is about doing what's best for his customer.  I highly recommend Emerg+NC Property Rescuers!!!  6/15 Chris Rackley, Wendell, NC – Nationwide Insurance Customer


Emerg+NC Property Rescuers were a dream to work with. The customer service and quality of work is phenomenal. They made a potentially catastrophic and very stressful situation manageable. They helped us from start to finish. The team was quick to respond: WITH IN HOURS they were at my home cleaning up the mess from a broken pipe. With two small children, they took my concerns to heart and made the area safe, and above all, clean for my family to live in. Although I hope I do not need it, I have Emerg+NC's number handy just in case! I have even shared their number with a neighbor recently when he had some water damage to his home. I was very pleased with the quick response, quality of work and customer service Emerg+NC provided to my family. 12/14 Christina Kaye, Chapel Hill, NC
"Kevin and his team at EMERG+NC  helped me and my family through a very trying time when we experienced extensive water damage due to a busted seal on one of our second floor showers in our home. They were responsive, empathetic and set realistic expectations for timelines and results. Kevin served as Project Manager and advised us on the insurance process. If we needed a call made or had questions, he was our "go-to-guy". I can't say enough about Kevin and his team and would highly recommend EMERG+NC to any prospective customer. In fact, I would go so far as to say that you would be taking a grave risk entrusting any other company with the same kind of home repair and rebuild effort." Top qualities: Great Results, Personable, High Integrity 1st Amanda Gaskins, Apex, NC, Erie Insurance Customer – Amanda hired Kevin Oakley's business as a General Contractor in 2011.

"We had already relocated to another state when disaster struck and we discovered a leak in the basement. Kevin was recommended to us by someone who had done some work for us in the past. We are so thankful that we knew him and that he knew Kevin at EMERG+NC. EMERG+NC handled the complete job for us and kept us informed every step of the way. We were clueless since we had never had any type of water damage to our property. Kevin and his team made this difficult time so much easier for us since we didn't have to handle any of the details. A million thanks…" Carol Madden, Cary, NC. Allstate Insurance Customer

We contacted a plumber to fix what we thought was a minor issue in our master bath tub. The plumber uncovered something much worse, a 9 year water leak. The plumber recommendedEMERG+NC. We gave them a call and they immediately sent their people out to assess the issue. The individuals that  EMERG+NC sent to do the repairs were amazing. Rommel Edwards and his partner Fredrick were always on time, very friendly, thorough, detail oriented and went above and beyond what we expected. I cannot thank Kevin and his staff enough for giving us our bathroom back and restoring order back to our lives. Thank you  EMERG+NC!"   LaTanya Brown , Holly Springs, NC

Jim Klein, CFO MiCell Technology, Durham, NC. has endorsed your work as General Manager / Owner at EMERG+NC Property Rescuers . Details of the Recommendation: "Kevin and  EMERG+NC do an outstanding job. They are quick to respond in an emergency situation and are experts in their field. I highly recommend them for water restoration projects." Service Category: Water damage Mitigation, Restoration & clean-up Year first hired: 2010 (hired more than once) Top Qualities: Great Results, Personable, Expert



"EMERG+NC Property Rescuers was professional, thorough, and prompt. They addressed every issue and responded to all requests quickly. I was extremely please as they far exceeded my expectations." – Carl Williford, Fuquay-Varina, NC

"Kevin and Ryan were extremely prompt in taking care of our home. The work was done quickly and extremely professionally. I would recommend our friends, family and clients. They met our expectation 100%!" Nick Petrakis, Allstate Insurance, Ashley Petrakis Agency, Garner, NC.

"We would highly recommend EMERG+NC Property Rescuers. They are very professional, and took care of our water damage problems quickly." Lance Tuggle, Fayetteville, NC.

"Mr. Oakley & his staff at EMERG+NC Property Rescuers felicitated the restoration of the first & second floors from a major water leak at our brand new Embassy Suites Hotel in Bier Creek. They were prompt at 12:15 AM and met our stringent deadlines to re-open these floors quickly. Yes, we would definitely use them again if ever needed." Fred Leach, Dir. Of Food & Beverage Services, Raleigh, NC.

"These young professional EMERG+NC representative were very though and polite. I'm a retired school teacher and I can tell when young men have been brought up correctly… What impressed me MOST of all in that they were willing to come to Sanford on a Saturday night a midst a snow, sleet, freezing rain storm." Georgia K. Garner, Sanford, NC.

"EMERG+NC Property Rescuers was excellent. They were informative about the progress and prompt each day they were here – 5 days!" Sandra & David Duguid, Cary, NC.

"Ryan Yamini & Ryan Oakley responded within 1 hour of being contacted. They were clean, respectful, knowledgeable and professional in every way. I cannot recommend them highly enough. I wish I hadn't had to have the water incident, but I thankful that they responded. They exceed expectations." Barbara Moresi, Holly Springs, NC

"I am very pleased with the work provided by EMERG+NC Property Rescuers, but mostly their reliability and knowledge. The mold remediation job was done thoroughly and on time. Exceeded expectations!" Debra Forman, Fuquay Varina, NC

.
"The service was Superior. The technicians were through and went beyond any expectation I had of a property Rescue serve. They exceeded our expectations." Thank you Kevin & Ryan. Michael & Diane Strickland, Wendell, NC.

"EMERG+NC Property Rescuers helped me save a good deal of money in repairs due to the timeliness of them getting out here quickly and resolving any water damage. Their knowledge base was crucial to getting the water out of our home and they kept us informed of their progress on a daily basis." Ralph Chambers, Fuquay Varina, NC.

"EMERG+NC Property Rescuers responded within 1 hour and took control of the water damage situation in the middle of the night. They were very professional. We had no idea what to do and EMERG+NC helped us get through this very difficult situation." Andrew & Vicki Johnson, Cary, NC.

"EMERG+NC Property Rescuers has done an excellent job responding to an emergency situation and extracted all of the water and dried the walls and floor. Everything was professionally handled and they were very careful, helpful and knowledgeable. "Jason Burke, Cary NC.

"Very pleased and grateful. Great staff and great attitudes!" Arnold Dusablon, Apex, NC

"Excellent Service – We highly recommend that our Agent grooms a strong relationship with EMERG+NC Property Rescuers!!!" – Olan Fuquay, Fuquay Varina, NC.

"Very Helpful and knowledgeable! Everyone was helpful, courteous and timely. All seemed genuinely concerned that our job was done correctly and complexly. They exceed our expectations." Roger Sprinkle, Fuquay Varina, NC.

"They arrived within one half hour a 10:15 PM that night. Their quick action saved the upstairs carpet and sheetrock replacement. I would highly recommend them to others in of this type of service. Exceptional!" Melanie Lessard, Willow Springs, NC.

"The experience I had with EMERG+NC Property Rescuers was exceptional. They were professional, Prompt, Courteous, Clean & Extremely Knowledgeable. They exceeded our expectations." W. P. (Jackie) Inscore, Clayton, NC.

"They responded within minutes of our emergency and took care of it in reasonable time. They were careful to be neat and clean. They were very nice! They absolutely met and exceed our expectations." Stuart & Heather White, Fuquay Varina, NC.

"They were extremely prompt and helpful. I'm a single mother and I felt comfortable with them in and out of my house when I had to be at work. I am confident they did a thoroughly effective job!" Sandra Florio, Cary, NC.

"They responded quickly in less than 1 hour and immediately started work getting the water out of my floors, etc. Yes, I was impressed at the new technology find and extracting water from hardwood floors." Juanita & James Taylor, Raleigh, NC.